Just wanted to share a little story from X
3
: Terran Conflict, because I'm having so much fun after playing it for four days straight.
I needed to retrieve a derelict hulk floating in space, with a time limit before they would declare it was stolen. The trip out there was at 600 meters/second in a Kestrel fighter. The trip back would be 30 meters/second in a fat, crippled Hermes Hauler. And I wouldn't make it if I stopped to repair it.
First thing I tried was ordering the hauler to fly home by itself, then ejecting from my Kestrel in its path. That gave me about twenty seconds to use my spacesuit's repair laser as it trundled by, and then I had to get the Kestrel to fly close enough to pick me up.
Here's a screenshot of me racing my fighter to intercept the hauler:
That got my speed up about 15%, but used up more than half the distance to the jump gate. Then I realized my spacesuit's attitude jets were actually more powerful than its thruster pack, and I could keep up with the ship by floating sideways. I love discovering new tactics in the hour of need, and it looked cool too: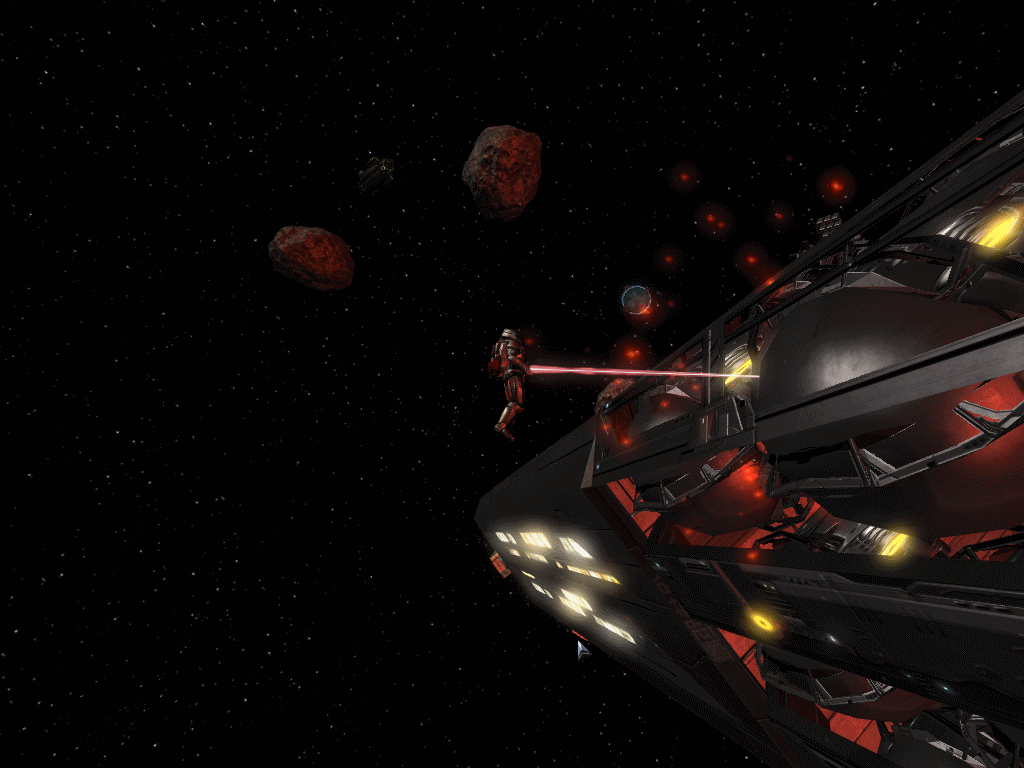 At top speed now, I'd have a minute to spare. I jumped out of my Kestrel and flew the Hauler myself so I could jam my fingers on the attitude jets for eight minutes, just in case I had trouble docking.
The game wouldn't take the ship! Wouldn't strand me with only a spacesuit. The Hauler is way too clumsy to undock itself and redock. I had to order my Kestrel to the dock from way back by the jump gate. Fastest ship in the game that I've found. Eleven seconds left on the time limit when it docked. Mouse hovering over the "Switch Ships" button till it went live. Last second panic to send the message that officially turns the ship over to the station. Made it!
There's simply nothing better than pulling together a bunch of skills you've mastered and have the graphics and missions make it like it actually matters. I love video games.